Hard work doesn't have to be so…hard.
At Oliverian, we combine small classes, highly experiential approaches, and warm, supportive teacher-student relationships to make learning irresistible. Our classrooms are comfortable yet challenging places of discussion and inquiry where bright and often unconventional thinkers are safe to find their own best style of learning. Many students who have not thrived in traditional schools finally catch their stride academically at Oliverian, discover their intellectual interests, and learn how to learn.

I would not be the person I am today if it were not for each and every person at Oliverian.  Their patience, compassion, and constantly guiding hands caused me, forced me, to grow in to the man I am now finally becoming.

I've never felt more supported, more beautiful, or more free to explore who I am than when I was at Oliverian.  Everyone at college keeps saying how glad they are to be out of high school, and it makes me so grateful for my unique experience.

The biggest thing for me was that I had tons of support from peers and staff at Oliverian.  I was always supported when I was struggling and I never felt alone.  The culture at Oliverian was always fun and very accepting.  Everyone could relate to each other!  We all had our own stories of struggles so there was barely any judgment.  The small classes and school as a whole were a lot less overwhelming for me.  I got so close with everyone and I loved that.  I got to know my teachers really well and it totally felt like family.

The Oliverian School was a part of my life for two years straight (including summer school) and I know it will always be a part of my life. It helped me become the person I've always wanted to be.  Since graduating, I am confident, motivated, and sure of what I want, pretty much the complete opposite of who I was upon arrival. I know that for the rest of my life I have the staff and students of Oliverian to call whenever I'd like, for help or to simply catch up. They all saw me go through my transformation and therefore I feel they know me better than anyone else. The school and community inspired me, yes, but so did the location.  Rural New Hampshire taught me to appreciate nature and serenity and really has made me distant from electronic entertainment (although, yes, I'm on the Internet right now).  But I have not been on Facebook since leaving, and I don't want to be. I would much rather read a book and call up my Oliverian English teacher, Kara, to discuss it. I can't say enough positive comments regarding Oliverian. It is the foundation from which I am now building my whole life. Without it, I would be lost. Thank you, Oliverian!

I have been a student at The Oliverian School and now that I am no longer an Oliverian student, I wish I still was. From the time I started there as a freshman, at a very young age, Oliverian has been my home away from home. Oliverian is hard to describe in words, as there is no way to share the wondrous experience and do it any justice. Here is my attempt to do so. Oliverian is a place where one feels at home, it is a haven from discrimination, and it will provide you with the help you require to learn about yourself and to be comfortable with what you find. Not only that, but it is a place with a dream as unique as its students, to truly understand and learn from one another and not only from the staff.  In addition to that, there is no place on earth that one can find a staff that cares more. This is a place that shall be in my memories fondly forever and has provided for me and helped me achieve."

At Oliverian found the motivation to pick up an instrument and let it engulf my life.  Because of that, music is a huge part of me.  And that wouldn't have happened anywhere else.

People who would tend to fall through the cracks in a larger school are given the chance to recognize their abilities and build confidence within themselves.   I am in an environment where I can take chances and thrive.  Oliverian truly embraces strong individuality, while also promoting community living.  I am so grateful to have been part of such a wonderful school.

Oliverian is designed to support you. It's okay to make mistakes here— you grow and learn from them rather than feeling miserable about yourself and making things worse. The school helps you get on your feet and teaches you how to move on with life. Right when you get comfortable, they ease up on the support, and leave you more on your own. At that point, I had to rely more on self-motivation. I began to feel more confident in myself. Oliverian really prepares you for life. I feel ready to keep my life up and moving; if I do screw up again, I know it isn't the end of the world. I can move on from it. I have more confidence now, and no longer do just the minimum to get by in life. I am ready to make my life work.

This school has something no other schools have—individual care and love. I love this school so much because it got me to where I am today.  Oliverian is a place where you are loved personally by staff and other students and suddenly you realize this isn't just a school—it is a family.   I appreciate everyone at Oliverian for existing and for being there for students like me.  You are a hero.  Oliverian may not be the hero students think they want... but it definitely is the hero they need.

The Oliverian School is a place of great comfort that provided with the amazing support I needed to reach my goals.  It has helped me to overcome so much as I travel the path towards my goals, a path which I couldn't have discovered without the fantastic people in this great and loving community.

Find your purpose
The simple question "why" gets a bad rap in most high schools; it's often viewed as disrespectful or avoidant. Why are we doing this? Why is that important? Why do it that way? Why should I? But it's actually a brilliant question and the only one that can reliably lead us toward a sense of purpose, which is fuel for the engine of deep learning.
So we join our students in asking this most fundamental question. But rather than try to answer it for them, we help them discover their own "why" so that everything they do is driven by a personal sense of meaning, purpose, and curiosity. As William Butler Yeats famously said, "Education is not the filling of a pail, but the lighting of a fire." Once the fundamental question of purpose is answered, that fire is lit.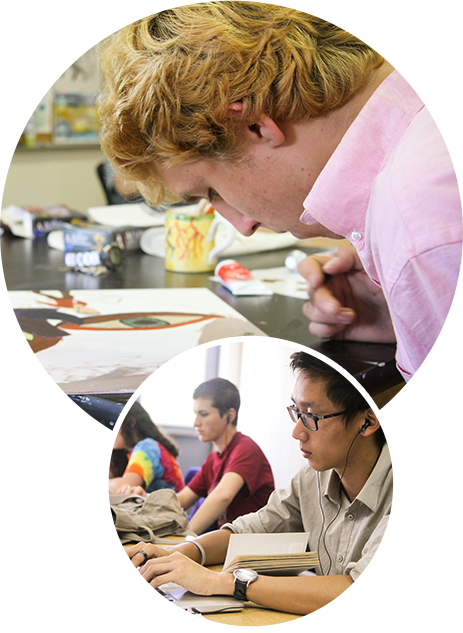 Supportive College-Preparatory Curriculum and Instruction
Oliverian offers a rigorous and personalized college-preparatory curriculum designed to engage students intellectually while accommodating different learning styles and levels. With an average class size of about five students, we are able to meet each student where they are; we routinely offer university-level challenges for some while remediating subject-area weaknesses for others in a single class.
Our tiny class size also allows for a highly relational approach to instruction. Students form deep and caring relationships with their teachers both in and out of class, making school a safe and comfortable place to engage and learn. Not only does a strong teacher-student bond make school much more enjoyable — it also profoundly accelerates learning according to both current educational research and Oliverian experience!
Oliverian's supportive curriculum, instruction, and college counseling results in a 90+% college matriculation rate with alums reporting a high level of success and satisfaction in college and beyond.